Jodhpur is popularly known as "Sun City" due to the vicinity of the Thar Desert and hot climatic conditions. Jodhpur is also one of the famous cities in Rajasthan for tourism. In Jodhpur there are so many things to do.
The popular old monuments, temples, forts, palaces, lakes, and the background of Thar Desert attracts tourists. It is the best place for different interesting and enthusiastic activities.
Jodhpur is famous for many adventurous activities like paragliding, trekking, safaris etc. Never miss the street food of Jodhpuri's also. By the way, let's start to know how to explore the royalty and tourism of Jodhpur.
Here are the list of Top 20 Interesting things to do in Jodhpur.
1. Umaid Bhavan Palace
Umaid Bhavan Palace is a luxurious hotel in Jodhpur for weddings, fairs, and festivals. This Palace was the showcase of culture, royalty, and history of Jodhpur. It was home to Maharaja Gaj Singh and the royal family of Jodhpur. This palace holds a museum which is the collection of clocks and cars.
A large number of tourists visits Umaid Bhavan Palace from all over the world to explore the rarest artifacts and unique attractions. The famous festival in Umaid Bhavan Palace is the Mewar festival. So never miss this place on your list.
Also Read : Top Heritage Hotels to Stay in Jodhpur
Suggested Tour : 9 Days – Rajasthan Tour from Jaipur
2. Mandore Garden
Mandore Garden is a beautiful tourist attraction in Jodhpur which is famous for temples, cenotaphs, monuments, and the ruined fort etc. The garden is beautifully covered with greenery and the architectural skill in this garden catches the tourists eye. Many fairs and festivals are seasonal occur here.
The major attraction of this garden is the "Hall of Heroes" with 33 Hindu deities and the shrine of the three hundred million gods. This is the best place to experience the architectural skill which shows Hindu deities in different illustrations.
Suggested Tour : 11 Days – Rajasthan Tour from Mumbai
3. Mehrangarh Fort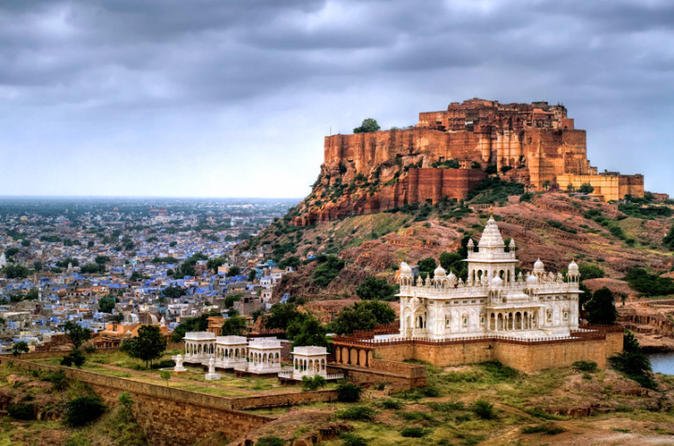 The Mehrangarh Fort is one of the largest forts in India at the height of 400 ft over the city. This fort is comprised of so many palaces which are ideal for beautiful carvings, arched galleries, balconies etc. Mehrangarh Fort is famous for its museum. This museum displays the collection of costumes, arms, paintings, decorated period rooms, etc of the royal times.
Mehrangarh Fort is not only famous for its architecture and attractions. It was famous for adventurous activities like Flying Fox a Ziplining activity etc. The aerial view of the Jodhpur city from the Fort is watchable. It will be more delight to reach Jodhpur Mehrangarh Fort with Deccan Odyssey.
Also Read : List of 20 Biggest Forts in India
Suggested Tour : 14 Days – Rajasthan Agra and Varanasi Tour
4. Jaswant Thada
Jaswant Thada is a beautiful marble cenotaph of Maharaja Jaswant Singh II by his son. This cenotaph is a stunning beauty with carved marble lattice screens on domes. During the morning and evenings, these domes reflect with different colors. The major attraction of this monument is the portraits of Rathore rulers hanging on the walls. This is a beautiful monument in Jodhpur for a pleasant and tranquil environment.
Also Read : Why Visit Rajasthan – The Land of Rajputs
Suggested Tour : 10 Days – Rajasthan Tour with Only Luxury Hotels
5. Flying Fox at Mehrangarh Fort
Flying Fox is an adventurous act in Jodhpur at Mehrangarh Fort. It is a six zip line adventure activity with all international safety measures. This Flying Fox ride will be carried on over the largest forts, desert lakes etc. This will be the best adventurous act and also the craziest thing forever and never to the tourists. Flying Fox adventurous activity will be carried from inside the fort in the Chokelao Gardens.
Also Read :
Suggested Tour : 8 Days – Rajasthan Tour from Delhi
6. Paragliding
Paragliding is also the best adventurous act in Jodhpur. This is the best things to be done in Jodhpur to have a complete look of Jodhpur with a birds eye view. The feel we get while wind forcing on our face and the total view of the landscapes, forts, desert etc will be amazing and unforgettable. Paragliding is the most favorite activity for visitors.
Suggested Tour : 18 Days – Rajasthan Tour
7. Bishnoi Village Safari
This Village safari will make you experience the tribal life, culture, wildlife, arts, and crafts of Jodhpur villages. This safari is created by Chhotaram Prajapati a weaver to make people aware of traditions and cultures of Villages in India. The residents of village worship nature and animals.
The Guda lake is another attraction of Bishnoi village with various birds like cranes, chinkaras, blackbucks etc. The arts and crafts by the residents of the village are the major attractions of Bishnoi Village Safari.
Also Read : Top 10 Most Famous Museums of Rajasthan
Suggested Tour : 14 Days – Rajasthan Village Tours
8. Street Food and City Markets
Street food in Jodhpur is so delicious and tasty to eat. The famous street food centers in Jodhpur are the Daal Baati Choorma at Bhavani Dal Bati, Mirchi Vada and Samosa at Shahi Samosa, Masala tea at Bhati Tea Stall and Omelet shops outside Sardar Market etc. These are the famous street food stops of Jodhpur to have a delicious food.
City markets in Jodhpur are another attraction of Jodhpur. The best shopping destination in Jodhpur is the Old city which is home to artifacts, spices, and saris. The best way to explore the markets of Jodhpur is by walking through Mehrangarh Fort to Clock tower. This will include cane workers, souvenir market, blue houses, painters, etc. Other markets are Sardar market, National Handloom market etc.
Must Read : What to Eat in Jodhpur
Shopping and street food is the best things to do in Jodhpur. These are the best ways also to explore the Jodhpur city.
Also Read : Top 10 Colourful Markets in Rajasthan
Suggested Tour : 15 Days – Historical Rajasthan With Agra Tour
9. Camel Safari
Camel safari is the another famous and joy ride in Jodhpur. Camel safari is the best things to do in Jodhpur to adventure the desert life. For families, it is the best ride to enjoy a beautiful day in the desert life. By the way, also enjoy the tribal dances at campfires.
Also Read : How to Explore Rajasthan by Luxury Trains?
Suggested Tour : 15 Days – The Royal Retreat Rajasthan
10. Marwar Village
Marwar is a Rajasthani village dominated by farming communities. The major community in this village is Banjara. The lifestyle of these people live here will be surprising with staying in small mud homes and the attractive traditional jewelry.
They welcome the tourists with their innocent and warm smiles. Marwar village is also the best things to do in Jodhpur to experience the tribal life.
11. Rao Jodha Desert Rock Park
This park was developed in 2006 after neglected many years. This park was located just next to the fort and the main aim of maintaining this park is to save the natural ecology. This park is home to 80 native species of plants in a rocky environment cultivated from the Thar Desert. This park was spread over 70 hectares and the best things to do here to explore the park is walking tour.
Also Read : Top National Parks and Wildlife Sanctuaries in Rajasthan
Suggested Tour : 17 Days – Rajasthan Cultural and Wildlife Tour
12. Bird watching in Khicchan
Khicchan is the best place for bird-watching lovers. This place is famous for the migratory birds Demoiselle Cranes from Eurasia and Mongolia to Khicchan in the month of August. Khicchan has turned as natural sanctuary due to attractive birds and lot number of tourists visiting for birds.
13. Cycling Tour
Cycling tour in Jodhpur is also the best things to do to explore the city. Cycling is the best way to experience every part of the city with a joyful ride. So have a ride to different places, blue city, adventurous places, markets, sun city etc. It will be more interesting to do cycling with friends or family.
14. Desert Safari to Osian
Desert Safari to Osian will be interesting and experience-able one. This was an oasis of Thar Desert and also an ancient town in Rajasthan. This place was famous for different Jain and Hindu temples and also popularly known as the Khajuraho of Rajasthan. The famous temples are Surya temple and Sachiya Mata temple. Camel safari is the best option to visit Osian and also have a nice dinner with folk dance at Osian.
15. Yoga trekking
Yoga trekking is a different activity in Jodhpur at the mountain range of Aravali. Here trekking and yoga sessions will be provided in a peaceful environment and this leads to a serenity feeling. Trekking to Aravali range and taking yoga sessions will be different and interesting to the tourists.
16. Full day sightseeing tour
The full day sightseeing tour of Jodhpur city includes many interesting and most seen places. The best tourist locations to be cleared in a day in sightseeing tour are the Sun city, Blue city, streets of Jodhpur, historical monuments etc.
The places that should not be missed are the Umaid Bhavan Palace, Mehrangarh Fort, Kaylan Lake, Balsamand Lake, Ghanta Ghar etc.
Full day sightseeing tour will be apt for the tourists from Deccan Odyssey to experience the complete city. By the 4 or 5 P.M, you will be at your point to leave.
17. Rappelling in Soorsagar
Soorsagar is near to the Jodhpur which is the best adventurous spot. Rappelling is the best things to do in Soorsagar for the best adventurous moment in your life. Nearly 30 to 110 feet of tallest rocks will be there for rappelling in Soorsagar. So make an adventurous day in your life in Soorsagar.
18. Farm tour on Camel
Farm tour on a camel is also the best things to do in Jodhpur. You will be reached to the locals Thakur Saabs farm for the tour. It is the best activity to experience the farm life of Jodhpur locals. You can experience the local spices, the cooking methods, seasonal crops, farming practices etc. Farm tour on camel will be joyful and the experience-able life of farmers.
19. Trekking in Jodhpur
Trekking in Jodhpur means Chaupasni village is the correct destination. The heights in this village will make you never to forget the trekking experience in your life. So adventure seekers never miss the place when you visit Jodhpur.
20. Blue City walking experience
Blue city is the famous tourist destination in Jodhpur. Walking tour in this city will give you an unforgettable moment to witness the history of Jodhpur. The locals will make you show interest in untold stories, tales about the place. This place was home to many natives of Jodhpur.
Delicious sweets in Blue City attracts tourists like Gulab Jamun, Mave Ki Kachori etc. Blue City is the famous heritage walk site in Jodhpur and the view of Blue City from Mehrangarh Fort was attractive.
However, these are all the top and most watchable places in Jodhpur when you visit. These tourist places make you knowledgeable about the culture, tradition, history of Rajasthan. It is too better to reach Jodhpur through Deccan Odyssey. You will feel tired after visiting these places.
So by choosing Deccan Odyssey journeys, you can leave this place in a luxurious mode.
Recommended itineraries of Deccan Odyssey
Read few more suggested articles –